About Eichhoff Elektro Kft.
Eichhoff Elektro Kft., has been producing in Hungary since 1989, and is known throughout Europe for its high quality and innovative solutions. The products are made for the international market and sold at several points around the world. The company has more than 10,000 m² of production area and features product and quality development to provide customers with high-level service.
Eichhoff Elektro Kft joined the Enerdoor Group in 2011 which consists of Enerdoor in North America and Europe, Finmotor and Finlab in Italy and Eichhoff Elektro in Hungary.
Quality policy
Quality is an important part of the philosophy and strategy of Eichhoff Elektro Kft. Management undertakes full responsibility and commitment for the realization of the quality policy. The quality of our products is determined in every case by the demands of our domestic and foreign customers, the goals of usage and the safety and environment protection regulations.
The outstanding quality of Eichhoff products is due to the practicality of our product development and the great care taken when choosing materials. Electrical measurements and test procedures ensure the required specifications and safety regulations are met. The strategic development of our products and the continuous training of our colleagues ensure the satisfaction of our customers and also the effective operation of our company.
ISO 9000 Certified Manufacturer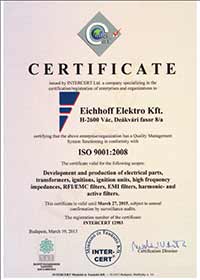 Products